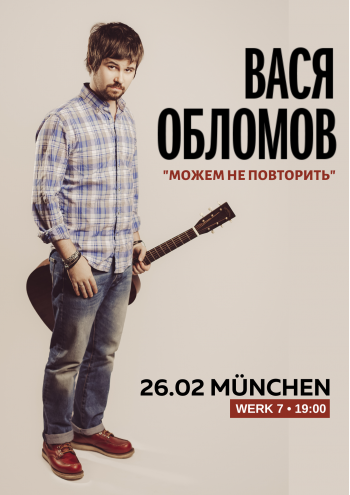 Vasya Oblomov "We can not repeat"
Vasya Oblomov in Munich, club München Werk 7, February 26, 2023
In the clips of Vasya Oblomov, Leonid Parfyonov rapped, Mikhail Efremov sat on the toilet, the writer Sergei Minaev played the accordion, Artem Mikhalkov sadly walked through winter Moscow, Basta nodded his head to the beat of a patriotic song, Sergei Shnurov wore a "shuttle bag", Ksenia Sobchak turned to President, Andrey Vasiliev rode a gazelle in central Russia, Garik Sukachev sang at someone's birthday in a limousine, and residents of a town near Moscow looked with indifference at a flying saucer hovering over them.
After a parody of Oblomov in the program "Just Like It" in search of the meaning of the song "I'm going to Magadan", Leonid Yarmolnik had a fight with Gennady Khazanov. Both parts of the popular film "DuhLess" end in the same way: with Vasya Oblomov's song. According to the texts of his songs, future philologists are already writing their theses, and in a hundred years it will be possible to study the history of Russia at the beginning of the twenty-first century.
Spectators are waiting for destructive criticism of the most painful aspects of Russian reality, mocking socio-political satire, reflections on what and why our people love, laughter through tears, numbers from the daring project "Mr. Good" (a television project in which Vasya Oblomov, together with Mikhail Efremov and Dmitry Bykov created musical numbers based on the news of the past week), as well as "Going to Magadan" and other hits.
A charge of optimism and good mood is guaranteed!