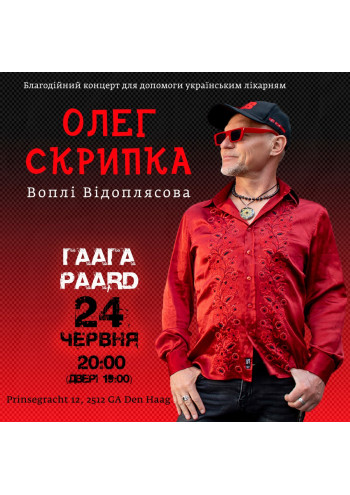 Oleh Skrypka (Vopli Vidoplyassova)
JUNE 24th (SATURDAY) – the long awaited concert of the legendary Ukrainian musician and performer Oleg Skrypka and the band "Vopli Vidoplyasova" in the Netherlands (The Hague)!

The concert starts at 20:00 (doors open at 19:00)
At: Paard
Prinsegracht 12, 2512 GA Den Haag
Vopli Vidoplyassova (also known as "VV") is a legendary Ukrainian band that requires no long introductions. Often referred to as "founders of the Ukrainian rock–n–roll music" the frontman Oleg Skrypka and fellow musicians were the first ones to sing Ukrainian rock songs outside of Ukraine – as early as in 1986.
Since then the band released 9 full studio and live albums, often changing styles and surprising their fans with a new sound – from heavy metal to psychedelic folk to electronic music. 

Speaking (and singing in) four languages fluently, Oleg Skrypka is famous for his support of Ukrainian national rock identity. He was the founder of two popular festivals - "Kraina Mriy" and "Rock Sich" - that served to promote Ukrainian and world ethnic music and modern Ukrainian rock music respectively. 

Since the beginning of the war in 2014 the band has been heavily involved in helping their country to endure, with the scale of support only growing after the start of the full scale Russian invasion in 2022. Almost all the money Skrypka and the band earn from different concerts and events are donated to "Ohmatdyt" - specialised children's hospital in Kyiv and other medical and charitable institutions.
So with the consent and full support of the band, we are happy to announce that the concert in The Hague is strictly charitable, and all profits will be transferred by its organisers to the "Stichting Zeilen van Vrijheid" (https://zeilenvanvrijheid.nl) – foundation, which has been actively supporting hospitals in Ukraine since the beginning of the full scale war. The money will be spent on the purchase and equipment of ambulance vehicles, on medical supplies and equipment, on power generators for Ukrainian hospitals and clinics. In case you can't be at the concert and still wish to support the cause, you can buy any number of tickets and email them to dan@zeilenvanvrijheid.nl. Thus your money would be spent to help Ukraine, and the tickets you have bought would be given out to people who cannot afford to buy them – young volunteers of charitable organisations and people who were forced to move from Ukraine to The Netherlands temporarily – because of the war.

The concert program includes both old hits and some new songs. It's going to be wonderful and emotional show!
Organizers: Daniil Simanov, Stichting Zeilen van Vrijheid and Halfwind events.
Doors: 19:00
Beginning of the concert: 20:00
Approximate duration of the concert: two hours
See you in The Hague!